Trixi Bolero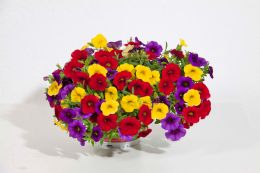 Trixis are three varieties grown together in one plug! The result is an instant high-quality and colourful product in perfect colour combinations. Plant in pots, troughs or in hanging baskets. We would recommend using 1 to 3 plugs per hanging basket or container. Our technical representatives are fully experienced in the culture of Trixis and are able to offer recommendations on the easiest varieties to grow. Trixi Bolero is a Trixi mix of Calibrachoa Minifamous Neo Firestorm, Minifamous Neo Royal Blue '16 and Minfamous Neo True Yellow.
| | | |
| --- | --- | --- |
| Unit | Unit Price | Weeks Available |
| Tray of 60 | £72.00 | 10-20 |
Prices shown are before discounts, royalty and label have been applied.