How To Order
We have been supplying millions of plants per year to destinations all around the UK and are geared up in every way to distribute efficiently, ensuring that your products reach you when you need them and in perfect condition.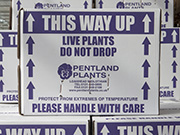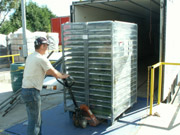 Online Ordering
Our online ordering system allows you to order any varieties online 24 hours a day. Simply browse the varieties section and where you see the varieties listed, click the "more info" link to view product options such as tray sizes and weeks available as well as pricing. Choose the appropriate options and click "add to basket". Once you have selected all your items click the "checkout" button found at the top of every page and follow the instructions provided.
Online ordering is only available where there is sufficient time to have the varieties grown to order specifically for you. If you require plants from our availability list, please email sales@pentlandplants.co.uk a copy of your wish list.
Order by telephone
Our friendly customer service team are ready to take your call and can assist with product selection and order scheduling.
Call 0131 440 3455 or 0131 440 0895 option 2
Order by fax or post
We can accept orders by fax or post. If you have a printed catalogue our order form can be found inside.